12 Minute Workout for Busy Moms
This shop has been compensated by CollectiveBias, Inc. on behalf of its advertiser, ZonePerfect. #MyLittleWins #CollectiveBias
I'm a mom with two young children and working out isn't always on my daily agenda. Going to the gym for an hour isn't even a possibility! The 12 Minute Workout for Busy Moms is a quick, yet efficient workout you can do at home without any equipment to take a moment to help you take care of yourself.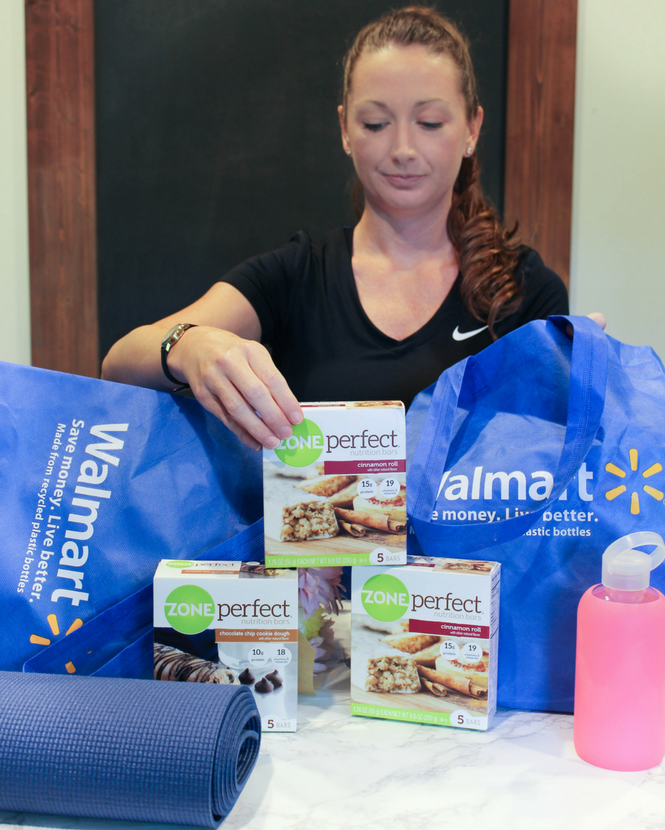 Interested in finding these Zone Perfect® bars for your post workout snack? Hover over the photo to click through to Walmart.com and buy them!"
Moms have a tendency to take care of everyone else before themselves and neglect our health and body at times. This summer has been a time of neglect for myself. I have gained some weight and haven't been eating the foods I should be. I am changing that now and making the time for me, even if it is just a few minutes a day!
It is time to start celebrating the Little Wins™ in everyday. What does this mean? I am going to focus on celebrating the little things! I am going to celebrate not battling my son to brush his teeth before bed, I am going to celebrate when my daughter uses the potty like a big girl, I am going to celebrate getting out of the house on time in the morning. Most importantly, I am going to celebrate taking care of ME.
Taking care of myself includes eating better and finding time 5 days a week for my 12 Minute Workout for Busy Moms. No more soda or empty calories from drinks, no more snacking on junk (especially after dinner), and no more making excuses on why I can't workout.
To begin my new journey of taking care of myself again, I stopped by my local Walmart to grab some snacks that are high in protein to provide more energy throughout my chaotic days and curve any cravings. I came across these delicious ZonePerfect® bars at Walmart and they are just what I am looking for to accomplish my healthier eating goals. I picked up ZonePerfect® Cinnamon Roll and ZonePerfect® Chocolate Chip Cookie Dough because it is cinnamon roll and cookie dough… winning! The cookie dough is ahhh-mazing by the way.
Visit ZonePerfect® for more inspiration on celebrating your daily Little Wins™ and make sure to enter the contest below!
#MyLittleWinsSweepstakes (8/4 to 9/12)
12 Minute Workout
Time to share my 12 Minute Workout for Busy Moms! Find time during your kids nap, although my kids actually taking a nap is a Little Wins™ all on it's own. You can wake up 15 minutes early to get in a quick workout, have your spouse entertain the kids for a few moments, or schedule a certain time everyday no matter what your kids are doing.
When you have young kids running around, how in the world do you get in a workout? The second you decide to do something for you, someone needs to have a meltdown or has to poop or is suddenly starving. Set your kids up with some coloring books, have them read to themselves, sit them down with a snack or have them participate in your workout. I like having them participate! Set up a second yoga mat or even just a blanket as an area they must stay within as they workout with you and have them mimic all your moves. Blast some fun music. This can be a fun way to get your workout in and bond with your children.
You are going to need a space to set up. Moving the coffee table by the couch will be enough space for you and set down a yoga mat if you have one. Wear some cute workout clothes to get you motivated and grab a watch or timer. You will be doing each of the moves listed below for 60 seconds each.
Plank. Focus on your core and keeping a straight back. Engage your stomach muscles and hold for 60 seconds.
Side Plank 30 seconds each side. From the plank position, rotate your toes and pull up your arm straight in the air. Keep the abs engaged and hold. Squeeze your butt to keep you balanced.
Supergirl Lifts. Lay on your stomach and pull up your arms keeping the head aligned with the arms as you pull up your legs focusing on lifting with your thighs and tightening the butt. Go as high as you can without breaking form. Repeat for 60 seconds going slowly up and down.
Supergirl hold. At the top of your last supergirl lift, hold for 60 seconds.
V Push-ups. With your thumbs and index fingers, make a triangle shape with thumbs touching. Keep a straight back with head aligned, butt tight and core engaged. Do push-ups for 60 seconds focusing on good form. Form is more important the quantity. 5 perfect push-ups is better than 30 sloppy ones.
Jumping Jacks. Get that blood pumping for 60 seconds. Keep your core engaged throughout.
Squats. Place feet straight and shoulder width apart. As you squat, pull your arms straight ahead and horizontal with the floor. Sit back as far as you can keeping your feet flat on the floor. Always keep core engaged. Repeat for 60 seconds.
Wide Leg Squats. Point your toes out and widen your stance. Do squats for 60 seconds.
Wide Leg Squat hold. On your last wide leg squat, hold at the bottom for 60 seconds. Keep your arms straight and horizontal with floor, tighten the core area and keep head straight.
Flutter Kicks. Lay on your back on the floor with hands to your side. Lift your upper body without straining your neck and lift both legs. Focus on tightening those ab muscles and not creating any space between your back and the floor. Try and pull down your belly button to the floor. Slowly raise one leg higher than the other, then switch to make little kicks. Repeat for 60 seconds.
Crunches. Lay on your back and bend the knees. Pull up your head and shoulders with hands behind ears and pull up the legs slightly. Now, crunch for 60 seconds raising the upper body and knees simultaneously. Be careful not to use your hands to help lift the head. All lifting should come from your abdominals.
My 12 Minute Workout for Busy Moms is done. Time for a smarter snack option to keep my energy level up throughout the day to keep up with these kids! I'm grabbing a ZonePerfect® Cinnamon Roll and staying motivated to get my bod back in shape!
Remember, you deserve to spend time on YOU.
Sign up for Ibotta and earn $1.00 with the purchase of ZonePerfect® Nutrition Bars at Walmart.
Click HERE for offer.